The new Shamba project that will have a lasting impact on the Community
The Land & Life Foundation works to make sure that children in our Wildlife Warrior Club network benefit from development of a well rounded education. Conservation is our top priority but what is also important is the support of life skills which are often overlooked and neglected in traditional syllabi. Our regular Club sessions and the competitions we run are often based in the soft skills – art, theatre, poetry and prose – but a recent project is focusing on a far more practical life skill – agriculture and farming.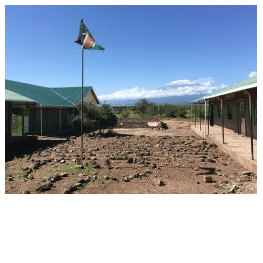 Across East Africa many regions have been affected by drought, which has serious consequences for the community particularly those semi-nomadic peoples often reliant on a largely pastoralist lifestyle. High dependence on cattle to provide income throughout the year means during hard times these peoples suffer without alternative sources of income or support. Often families will migrate in search of life-giving pasture for their cattle and in these cases their children are left in the boarding schools. The parents' expectation is that the school should be able to cater for the needs of the children.
From this insight the concept of the outdoor classroom project sprung up. Providing a successful shamba (which means 'farm' in Kiswahili) for the school will ensure a reliable source of food throughout the terms. The system is set up with shade netting and fencing to protect the crops from harsh sunshine, wildlife and grazing animals. The drip irrigation system ensures maximum water efficiency in this very hot dry area; it restricts weed growth and is low cost and low labour-intensive.  Once the system is set up and professionally installed it is simple and easy to manage and should provide maximum crop yield for minimum cost and resource input for the school.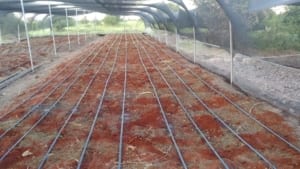 The shamba provides a number of other benefits; teaching the students to grow their own produce as well as potential for income generation should there be an excess of crops available to sell. The students will learn to select and plant the right crops at the right time of year; how to tend, water and weed; and finally how to harvest the food and care for the soil. This is a hugely valuable lesson for young people growing up in a  culture which traditionally has relied on external sources for vegetables and other food stuffs. This project aims to achieve a sustainable solution to a number of problems.
SKÅL International Monaco's Birgit Reimann and Constantine Panoussi donated the funds allocated towards the Shamba project. In order to ensure a professional outcome, Land & Life engaged an agricultural contractor Meshack and Joel Farms Ltd to implement the project and put in place the required infrastructure. The shamba took 2 weeks to complete from start to finish.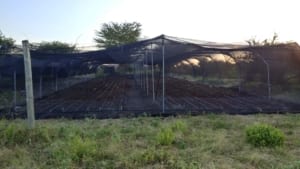 The teachers and ground staff of nearby Elewana Tortilis Camp have been trained on the drip irrigation system and crop management planning. Once the school selects its preferred crops, based on advice from the agriculturalists, further training and support will be provided with regular visits and hands on practical training from the Meshack & Joel team. This support will guide them through their first planting and harvest to ensure knowledge transfer and understanding.
Esiteti Primary serves as a real hub for the community – most of the families have children there and everyone has an interest in the school's success. Providing this shamba for the school is a way to reach every corner of the community and give them one more string to their bow in handling the pressures faced in the harsh environment of the Amboseli drylands. The project will help this predominantly pastoralist community find new ways of supporting themselves above and beyond their traditional means, improving community drought resilience and contributing to self-sustainability.
For more information about this and other projects, please don't hesitate to get in touch with us on info@landandlife.foundation.