Their health in your hands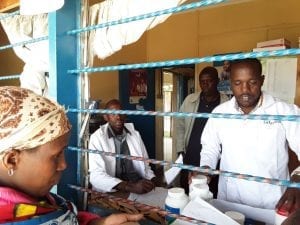 Long queues as far as the eyes can see of old men, expectant women, mothers carrying their little tots, young and old, patiently braving the morning Mara chill waiting their turn to see the visiting doctors.  Every year they will commute on foot, ride on motorbikes or any other means available to them to access the free check-ups and treatment in our free annual medical camps.
One of these people is a young man called Alex (name changed for privacy).  He comes from an area called Suswa about 158 kms from the Aitong Health Centre, the venue of our medical camp.  He arrived very late on the evening of the first day of our 2017 medical camp, accompanied by his parents. Alex was unwell and had missed a few weeks of school as a result.  His condition had also kept him away from activities that young Maasai youths his age ought to be taking part in, like herding his father's cattle and socializing with his friends.  
Upon examination Alex was recommended for surgery and was referred to our partner organisation Oasis' nearby hospital.  Alex's surgery was a great success and his mother could not hide her joy, saying "This is the happiest I have seen Alex in a long time.  He is energetic and helps around the house. He is back to school now and I think he missed his classmates.  We are very grateful to the doctor who operated on him, the nurse Jonathan who took care of him while in hospital, and the organisers of the medical camp for providing us with these opportunities for free."
Alex is just one success story – many patients have been seen and treated by our volunteer doctors to date.  Nonetheless, affordable health care is still out of reach for many in this community because of poverty, illiteracy and retrogressive cultural practices.  Most will only seek treatment if it is offered for free or when their health condition has worsened beyond that which they can manage at home, even for preventable diseases.
Please help us take 8 doctors to the Mara this October for our 7th medical camp so that they can help many others like Alex.
With only two months to go, we are so close to reaching our goal of raising $6,700 towards this camp and we cannot do it without you!
Will you help with a gift of $50 or more to reach our goal?  Your gift is critical because it will help us:
Stock the community clinic which serves over 10,000 people per month with the required medicines and pharmaceuticals

Bring in volunteer doctors and specialists who will diagnose, treat and create awareness around preventable diseases prevalent in this community

Build the capacities of the Aitong Health Center and it's dedicated staff
Please make a gift today and help us help our community, because their health is in our hands!
https://landandlife.foundation/wp-content/uploads/2016/10/Eunice-Kapeen.jpg
1004
1500
landandlife
https://landandlife.foundation/wp-content/uploads/2014/09/logoV2_white340.png
landandlife
2018-09-01 09:46:05
2018-09-01 15:52:06
Their health in your hands