Tag Archive for:
medical
https://landandlife.foundation/wp-content/uploads/2018/11/45103403_2115027535183943_4341145856653656064_n.png
483
878
landandlife
https://landandlife.foundation/wp-content/uploads/2014/09/logoV2_white340.png
landandlife
2018-11-29 13:43:18
2018-11-30 10:55:15
Seventh Annual Aitong Medical Camp
This week Land & Life held our 6th Annual Free Aitong Medical Camp at Aitong Health Clinic in the Mara near to Elephant Pepper Camp. This year we are delighted to announce that we have reached a new record – the clinic saw and treated approximately 1200 people over the three days!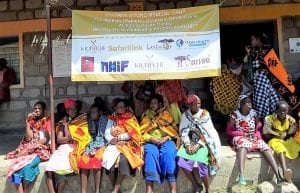 The team of volunteer doctors from Oasis Health Care were extremely enthusiastic and very efficient, working well with the Aitong Clinic Staff and nurses provided by the Narok District Hospital. They performed diabetes testing – HIV testing – cervical cancer screening – general medical check ups – dental check ups and treatments – family planning sessions – orthopaedic treatments – and more.
The cervical cancer screening in particular was an interesting issue. While it was welcomed by some women, for others it held a stigma, due largely to lack of awareness and understanding. We hope to work on this in the future, sensitising the community to the importance of such screening and reach even more women going forward.
Thanks to our partnership with NHIF, this year doctors were able to refer patients on for further treatment, ensuring that the camp has a wider impact than simply a one off day of treatment.
We are extremely grateful for the help and support of our partners Kicheche Camps and Saruni Lodges, Safarilink and Oasis HealthCare, and of course as ever the logistics and support from Elewana Collection's Elephant Pepper Camp. Well done everyone and on behalf of the community, thank you for your generosity and support.
If you would like to make a seasonal, Christmas-inspired donation towards this excellent initiative please do click here and donate, specifying Aitong as your preferred project.
https://landandlife.foundation/wp-content/uploads/2017/12/IMG-20171206-WA0026.jpg
960
1280
landandlife
https://landandlife.foundation/wp-content/uploads/2014/09/logoV2_white340.png
landandlife
2017-12-08 14:54:58
2017-12-08 14:54:58
6th Annual Aitong Medical Camp