Kachiuru Boys Toilet Block
The boys toilet block at Kachiuru is finally completed, thanks to the generous contributions of supporter Chelsea Hamby and staff from Head Offices of our biggest backers Cheli & Peacock Safaris and Elewana Collection.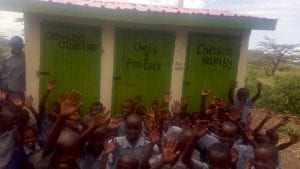 The block has three stalls which the school kindly insisted on naming in acknowledgement of the generosity of the donors.
Now the boys and girls of Kachiuru Primary finally have a toilet block each, catering for all the students in an area where previously they had very little in the way of such facilities.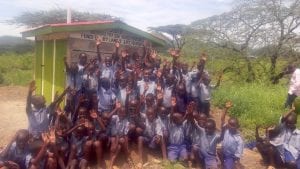 Thanks again to everyone, from all the staff and students of Kachiuru!
Esiteti Classrooms and Dormitory
The work continued on the third new classroom and the boys dormitory at Esiteti Primary until this year's heavy rains stopped play. After a few choice downpours, during which much fo the earth dug up for dormitory foundation trenches slid back into the ground again as slippery mud, the contractors stopped work for a while to wait until the season changed.
A visit this last few days coincided with the return of the contractors, who started work immediately and are estimating they will be able to get everything done over the next couple of months despite the delay.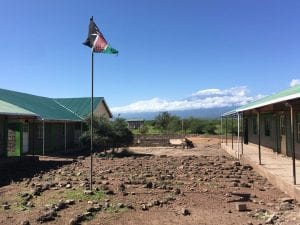 Staff and students at Esiteti were happy to see them return and are looking forward to the completion of both these projects over the next few months.